The men of Bidford-on-avon Parish





Bidford c1910.
The dark patch behind the lamp post
is where the memorial stands today.









Pictures of the men copyright and courtesy of the Berrow's Worcester/Evesham Journal.




McQUAY....

Fred.
Private. Royal Warwickshire regiment 14th Battalion. Entered France 21.11.15. Killed in action 30th July 1916. Aged 26.Before the war Fred was a shop manager in London. Freds regiment was a member of 13th brigade 5th Division. Fred was killed in action during the battles of the somme. Killed in the attack on Wood Lane to the immediate east of High Wood on the Somme, After a short rest the 5th Division again attacked from Delville to High Wood on the afternoon of July 30. It was the first day on which the creeping barrage was used, but the artillery preparation proved to have been too short; the 14th Royal Warwickshire, who were one of the assaulting battalions, were badly cut up, and those who remained were forced to shelter in shell holes about fifty yards from the German trenches. Though the men had shown the utmost dash it was impossible to advance, and ultimately the battalion was relieved by the 15th Royal Warwickshire, whilst the 16th were brought up in support. So that day all three of the Birmingham battalions were fighting in the same trenches. The 16th distinguished themselves by the gallantry with which a party under Lieuts. J. Dell and G. Sanders carried back the wounded under fire next day. Some of the bloodest battles of WW1 Bazentin ridge, Pozieres, Mouguet Farm, Guillemont, 51 British divisions (division = 12,000 men) used on the Somme with 419,700 British and dominion casualties. Father Frederick. Remembered on the Thiepval memorial and on the base of the gravestone of his brother-in-law Charles Holder in Bidford cemetery.


Thiepval memorial.cwgc.

+++



MAYRICK....

Thomas.
Private Royal Warkwickshire Regiment 14th Bat. Aged 22. Date of Death 28th Sept 1916. Service No 17806. Part of the 5th Div 1st Bham.Born in Bidford ,lived in Bidford worked as a baker before the war. Private Mayrick was wounded during the Somme battles 1st July 1916-18th Nov 16. evacuated to the UK and dying of his wounds in Netley Hospital body brought back to his final resting place at home here in Bidford.
Buried in the North cemetery at St Laurence church Bidford.
Son of George and Jane Mayrick, of Salford road,Bidford.





Bidford-on-Avon Church.

+++



MILLWARD....

Thomas William.
Sapper. service no 188908. Royal Engineers, railway oprerating div. Killed in action 27th May 1918. Objective of the railway divs was to get men and equipment to the front as close as possible, toiling around the clock, problems with shell fire and bombing from aircraft, meant casualties were suffered. 173 men from railway companies lost thier lives. Thomas was probably killed during the German offensive of spring 1918, and his body evacuated back to the village of Proven,where field ambulances were encamped 17 miles NW of Ieper Belgium. Thomas was born in Bewdley and at the time of his enlistment was employed as a clerk for the Great Western Railway in Bidford. Wife Sarah E (Later Sarah Spratt) Buried at Mendinghem military cemetery.


The newspaper cutting for Thomas.
Kindly sent to me by Simon Fielding,
who is researching the Millward family.


Medinghem military
cemetery.cwgc.


Thomas Millwards grave.

+++



MUMFORD....

William Thomas.
Gunner. Royal Field Artillery. 'A' battery 90th brigade. service no 64813. Died of wounds.22nd Mar 1916. Wounded in the neck on the 21st Mar 1916. His battery was part of the 20th(light) Division (broken up 30th Aug 16).Buried Lijssenthoek military cemetery. Resident of Tower hill, Bidford. Husband of Mrs Florence Mumford, Gunner Mumford left 2 young children. Joined in January 1915.Before the war he was employed as a farm carter.


Lijssenthoek cemetery.cwgc.


+++



NICHOLLS....

Arthur Harry.
Private. Worcestershire Regiment 2nd Bat. Service no 12878.Aged 19. Treated by 4th C.C.S Hospital. Date of death. 2nd Nov 1914. Part of the 5th Brigade 2nd Division.
Arthur, who died of wounds, was an old contemptible(men of the BEF who saw service before 22nd Nov 1914). The BEF embarked to France on 9th Aug 1914 aboard the ship &quotLake Michigan&quot, taking part in the battle of Mons then in the 1st battle of Ypres Oct 31st-Nov 22nd British captured it from the Germans in the days leading to Arthurs death the Germans pushed back the allies relentlessly, by 31st Oct they had taken Geluveld and almost broke through the British line on the Menen road, on the 1st Nov they took the Mesen ridge and Wijschate, while british troops captured Geluveld. This as now gone down in history as an heroic stand by the heroes of 2nd Worcs. The BEF now almost virtually destroyed, cooks, batman, signallers and other non-combatants were called into action, both sides were now exhausted, and the war in the trenches began.
Son of Frederick and Fanny Nicholls, of Ivy Cottage Marcliff, Nr Bidford. Worked as a farm labourer.
Buried Poperinghe old military cemetery.


Poperinghe old military cemetery.cwgc

+++



OAKEY....

George James.
L/Corporal. Service no 30290. Grenadier Guards 3rd Battalion.Killed in action date died 25th Sept 1918. Born Crowle Worcs Enlisted Stratford. Resident Barton. The Guards regiments were regarded as being among the elite units of the British Army.. Attached to 2nd Guards Brigade 3rd Army. George was killed in battles around the Town of Hermies which was re-captured in Sept 1918. He was involved in battles in both France and Flanders. Sisters Mary and Emma, Brother Charles. Buried at Hermies Hill British cemetery.



Hermies Hill British Cemetery.cwgc

+++



PAYNE....

William John Henry.
Private, Royal Warwickshire Regiment. 2nd Battalion. Service no 19336. Date of death on or since 4th May 1917.
Part of the immortal 7th division who suffered over 68,000 casualties William was killed during the battle of Arras, which began in a snowstorm on the 9th Apr 1917 the British sector was to the east of Arras the battle slogged on until mid May following a large-scale attack on the 3rd May when casualties were particulary high on the British sector. It became the greatest killing battle of the war with daily casualty rate of higher than the somme 4,076 a day. Widow Emily.
Commemorated on the Arras memorial.


Arras memorial.cwgc.

+++




PITCHER....

Bernard.Harold.
Lance corporal. Royal Warwickshire Regiment. 11th Battalion. Aged 21. Date of death 10th Apr 1917. Service no 9249. Lived in Bidford, worked as an errand boy in 1911. Born in Wellesbourne.. 1st battle of Scarpe(a river) 9th-14th Apr 1917. To capture Monchy-le-preux, it was a bitterly cold spring period with sleet and rain 112 brigade with 111 brigade were at the forefront of this battle to capture the high ground to the East of Arras.Whilst the 4th Division had been engaged on the north of the river Scarpe the 37th Division, with the 11th Royal Warwickshire in the 112th Brigade, were in action in the south. There also the German line was breached and the village of Feuchy taken. On April 9 the 11th Royal Warwickshire was in support, but advanced at evening to a point south of Feuchy Chapel on the Cambrai Road. In the early afternoon of April 10 the battalion moved forward to the west of Monchy-le-Preux. That night they dug in at Les Fosses Farm, with their left resting on the Cambrai Road. Early next morning the battalion led on the right in the attack on the high ground between Monchy and Guemappe. Advancing by short rushes, they got to a point about fifty yards east of the road from La Bergere to Monchy, where they held their ground till relieved at evening.

Son of Thomas and Ruth Pitcher, of 70, Charlotte rd, Stirchley Bham. Remembered on the Arras memorial France.


Arras Memorial.cwgc.

+++



PITCHER....

Carl.Rudolph.
Brother of Bernard(above) born in Wellesbourne.. Private. Wiltshire regiment 2nd Battalion Aged 19. Persumed Date of death 30th May 1918. Service no 36422. 2nd Battalion Wilts Regiment on the day Carl was killed in action fighting nr Chambrecy. Part of the war diary for the day Carl died states &quotEnemy attacks in the early hours of the morning our flanks heavily engaged forced to give ground withdrawing to Est of Sarcy suffering heavy casualties, only 5 officers and 120 men remained, position consolidated and strengthened by a party of Welsh fusiliers&quot.
Son of Thomas and Ruth Pitcher, 70, Charlotte rd, Stirchley. B'ham. Buried at Chambrecy british cemetery in France.


Chambrecy British
cemetery.cwgc.

+++



POWER....

George Henry Fosbroke.
Lieutenant. Duke of Cambridges own (Middx reg &quotThe Die Hards&quot)
6th Battalion Attached to &quotC&quot company 3rd Battalion 85th Brigade 28th Div. Died of wounds 9t May 1915 Aged 21. Born 8th Jan 1894. educated Merchant Taylors School and New college Oxford. His family was informed that he was seen by a member of his regiment having been struck by enemy shellfire, which blew his hand off. However his body could not be located. Son of Sir D'Arcy Power, K.B.E., F.R.C.S.(Eng.), and Lady Power, of 10A, Chandos St., Cavendish Square, London, W. President of the Oxford University Fencing Club; Commoner of New College, Oxford. Commemorated on the Menin gate memorial at Ypre and on a bronze tablet in Bidford parish Church.


Menin Gate Memorial.


+++



PULHAM....

William.Francis.
Driver. Army Service Corps. unit 239th H.T.Coy. Date of Death 17th Mar 1917.Born is Stow Williams 239th HT Company formed in Feb 1915,served overseas. Died of shell shock in Kemstone Military hospital. Before the war he was employed as a general labourer/ joiner. His H/T company was orginally formed for Mediterranean Expeditionary Force. William is buried in his home cemetery at Bidford, in the North West at St Laurence church. Widow Mary Anne E. His son also fell details below.





Bidford-on-Avon Church.

+++



PULHAM....

Cecil.Raymond.
Private. service no 19934 Machine Gun Corps(MGC known as the suicide club)formely 1583 K.R.R.C. Killed in action 21st Mar 1918, Born Abbots Morton,working as a plough boy in 1911. On the day the German spring offensive started &quotoperation Michael&quot. Enlisted 29.9.14.Resident Alcester. Served in France and Flanders. His father William Francis Pulham fell details above.


Montescourt-lizerolles communal cemetery
Aisne France.cwgc.

+++



REEVES....

Norman. Chester.
Farrier Sergeant.Aged 22. service no 208635. Treated 24th C.C.S. Died in Egypt. served in the Corps of Royal Engineers. Formerly with the Warwick Yeomanry (7th field coy R.E). Date died 24th Jan 1917. Born Alcester. enlisted in Iron Cross Warks.Died of Paratyphoid in No 24 Casualty clearing station. Before the war he was employed as a blacksmith. Son of Ada Cantrill(formerly Reeves), of 84, West St. and the late Charles Reeves. Sister Ada J Simmons. Native of Kings Heath, Bham. Buried at Kantara war memorial Cemetery. Eygpt.


Kantara war cemetery.cwgc.

+++



RICHARDSON....

Thomas.Arthur.
Private. Worcs Regiment 3rd Battalion. Killed in action. 12th Mar 1915.Aged 35. Service no 6298. Born in Bidford. War diary extract for the day Thomas was wounded in action.. Attack on Spanbreok mill Lindenhoek Belgium 12th Mar 1915. The Battalions detailed for the attack included the 3rd Worcs, The assualt timed for 8.40am after a night march from billets at Locre, problem at first light was a dense fog which delayed the attack eventually clearing in mid afternoon when the attack started 2 battalions rose from the water logged ditches knee deep in mud, the enemy fire was fierce and deadly, officers and men went down at every step, small parties of men managed to breach through the German lines and seizing a group of ruined houses this being the only success, the rest of the 2 attacking companies of the 3rd Worcs had been shot down and were lying killed or wounded on the broken mud between the trench lines, soon the enemy began to press back inwards along the trenchs towards the the ruined buildings using bomb and bayonet the Worcester lads held firm for over 3 hours, no help came, instead the artillery misinformed as to the position annihilated the helpless party in the ruined buildings. The losses in the disastrous attack were severe casualties were 9 officers and 77 other ranks killed.Thomas received a severe thigh wound and died in a casualty clearing station Nr Chocques. Widow Olive.
Remembered at Ypres on the Menin gate memorial.


Ypres Menin gate
memorial.


Menin gate Panel 34.

+++

ROSE....

Arthur Earnest.
Lance corporal, Royal Kings rifle corps. 2nd Battalion 1st Div. Aged 21. Died of wounds, Chocques no1 C.C.S. Date of death 1st Oct 1915. Servic no Y/1225. Lance corporal Arthur Rose probably lost his life after the Battle of Loos 25th Sept 1915-19th Oct 1915. His division lost 6,OOO lives in this battle 2nd Kings lost 450 men. Buried at Chocques military cemetery. Son of Henry James and Sarah Ann Rose, Salford Rd, Bidford. Worked as a market gardener.


Chocque military
cemetery.cwgc.

+++



ROSE....

Leonard Sylvester.
Sapper. Royal Engineers. Died of tuberculosis on 5th March 1919 Aged 23. born 13th July 1895 in Bidford. He enlisted in Feb 1917. and he was discharged on 24th July 1917. He had been severely gassed and was discharged as being unfit for duty. He served overseas at some time after 1st Jan 1916. Brother Arthur also fell. Buried Bidford cemetery. Leonard worked as a farm labourer.


Bidford Church and cemetery.

+++



RUSSELL....

Thomas.Albert.
Private. Oxford and Bucks Light Infantry 2nd Bn Aged 20. Date of death 4th Oct 1915.Died of wounds in 11th General Hospital in Boulogne. Service no 11765.Four other brothers also served and three were discharged.
Part of 5th brigade 2nd Div. Thomas probably became a casualty of the battle for Loos 25th Sep-19th Oct 1915, his division attacked along both banks of the La Bassee canal the 5th brigade attacked one on the canal and one in Front of Givency the attack failed, brigade suffered 950 men lost with little gain eventually retreating back to thier orginal trench.
Boulogne EC was one of the hospital cemeterys which suggests Thomas was wounded in action, later dying in a military hospital. He worked in 1911 as a Tamming labourer. Son of Henry and Julia Russell, Tower Hill, Bidford.


Boulogne eastern
cemetery.cwgc.

+++



RUSSELL....

Reginald.
Private Royal Warwickshire Regiment 16th battalion.Killed in action 21st Aug 1918. Service no 23133. 15th Birgade, 5th Division. On August 21 Sir Julian Byng attacked on a front of nine miles, from Moyenneville to Beaucourt. The leading divisions broke the enemy's line at the first rush, and then the 5th, 63rd and 3rd Divisions took up the advance. In the 5th Division the 13th Brigade was in reserve, whilst the 16th Royal Warwickshire had to pass through the right brigade of the 37th Division, after the capture of the high ground above Bucquoy. In spite of the heavy mist and smoke of the barrage, which was so thick that it was impossible to see more than a few yards, they kept good direction and were through Bucquoy in correct time. After a halt they advanced again, and moving on a compass bearing got across the railway and gained their final objective on the crest of the hill beyond. Reginald was killed in action during the battle of Albert. Mother Emma. buried at Adanac Military cemetery, Miraumont.


Adanac Military
cemetery Miraumont.cwgc.

+++



SEYMOUR....

John Earnest.
Private. An Old Contemptable. Goldstream Guards 3rd Battalion. Aged 27. Died CCS of West Riding Date 9th Aug 1915. Service no 6395.He was an old soldier discharged in 1912 remobilised in Aug 1914. Arriving in France on the 13th Aug. John died of wounds. The coldstream guards became 1st Guards brigade Guards division. John may have been wounded in the battle of Festubert or Aubers later dying in hospital at Lillers. All 3 guards battalions took part in this battle to capture high ground above Lille, attack after attack was mown down by German machine guns. The attacks lasted 3 weeks, artillery fire also accounted for casualties while forming trenches. Son of John and Minnie Seymour, of Marlcliffe, Bidford, Husband of Maud E. Seymour, of Salford rd, Bidford.
Lillers communal cemetery.


photo with permission from ww1 cemeteries.com click here.


+++



SHEASBY....
Edwin.
Gunner, Royal Garrison Artillery, 109th Heavy Battery. Aged 29. Date of death 29th March 1915. Service no 662 and 275662. 109 brigades armament being the 4.7inch guns. Edwin was buried in St Sever cemetery where hospitals were stationed on the Southern out skirts of Rouen. Edwin died of Pneumonia in No.12 General Hospital. Before the war he was a builders labourer. He served some years in the army with service in India and Malta. Resided in Bidford born in Stoke.
Son of Arthur E. Sheasby, Icknield St. Bidford. Buried St Sever cemetery Rouen.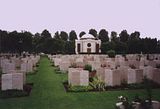 St Sever cemetery Rouen.cwgc.

+++



SMITH....
John.Corbett.
Private. Royal Warks Regiment 10th battalion. Aged 42.Born Bidford enlisted in Stratford. Date of death 10th Oct 1915 Died of Wounds 2ND London CCS. John was a sniper. Service no 10698. John's regiment was heavily involved in the battle for Loos 25th Sept-19th Oct 1915, he was shot in the head by a sniper. His Battalion arrived in France in July 1915, served in trenches near La Bassee until April 1916. Buried in Merville Communal Cemetery 1268 burials.
Son of Thomas Vardy Smith and Sophia.Sister Emily A Houghton. Before the war John was a gardener.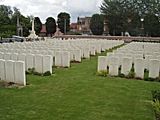 Merville cemetery.cwgc.

+++


SMITH....
Fredrick.George.
L/Cpl. Duke of Edinburgh's (Wiltshire regiment) 7th battalion 'C' Coy. Resident Bidford. Service no 17017. Killed in action during the attacks on the Petit-Couronne during the battle of Dojran, Salonika on the 24th Apr 1917.
On the night of 24,25th Apr 1917 Frederick was killed in action on enemy trenches. Extract from war diary for that night.&quot'C' Coy. Objective Z8 - Z10.
The Company formed up outside our wire at 2115. Liaison was established and on the barrage lifting the company entered the enemy trenches and drove him out after lively fighting with bombs during which serious losses were inflicted. A portion of this sector was cleared but owing to lack of co-operation on left flank ('D' Coy being held up by the uncut wire) the company was forced, on the delivery of a vigorous enemy counter attack, to evacuate the enemy's lines. A rally of the company was effected 50 yards from the enemy's trenches but the attack failed owing to heavy casualties, all the company officers and 8 Senior N.C.Os being either killed or wounded. CSM Thorne who was left in command saw that there was nothing for it but to withdraw to our lines.
One Lewis gun did not return. The second was brought back undamaged&quot.

For a comprehensive look at the Wiltshire regiment. click here.
Frederick was formerly with the Ox and Bucks Light Infantry Regiment
Son of Esther Collect formerly Smith Alcester Rd, Bidford and late John Smith. Buried Doiran military cemetery Salonika.



Doiran cemetery Greece.cwgc.

+++



STANFORD....
Lewis (Jack).
Private. Oxford and Bucks Light Infantry, 5th Battalion. Also served 2nd and 6th Ox and Bucks. Aged 24. Date of death 3rd May 1917. Service no 12349. Entered the theatre of France 1st May 1915.
Attached to 42 Brigade 14th Light div, Lewis's brigade was on the western front throughout the war. The battle for Arras 9th Apr-15 May 1917. The 3rd battle of the Scrape 3rd May-4th May 1917. The 5th battalion made an attack at Vis-en-Artois a few miles east of Arras The attack was to commence on 3rd May out of 523 men in the battalion casualties were 299 among them Lewis, 'A' company which he served lost 75 men out of 129 who attacked. Before the war he was employed at Broom mill as was his father. Known as 'Jack' by the family. His father Henry Thomas Stanford (buried in the churchyard at Bidford along with Julia Stanford, Jack's mother). Awarded medals Victory, BWM and Star.
Son of Henry Thomas and Julia Stanford of Broom Nr Bidford. (Some details of Jacks service supplied by a local relative)



Jack Stanford.




Arras memorial.cwgc.

+++


TARRANT....
Fredrick.
Private. Worcestershire Regiment. 4th battalion 88th brigade 29th div. Aged 31. Killed in action. 4th June 1915. Service no 11625.
Frederick was with the men of the Gallipoli campaign who landed on 'W' beach, he has no known grave and is commemorated on the Helles memorial.
Frederick was killed in action. fell in the 3rd battle of Krithia 4th June 1915. Sickness also claimed over 145,000 lives dysentry, diarrhoea and enteric fever being the main killers.
Son of William and Fanny Tarrant, Alcester Rd, Bidford. Some effects to Louisa Conlon, Elsie Hook his sisters.



Helles memorial.cwgc.

+++


TAYLOR....
Thomas Henry.
Lance corporal. service no. 12808 Date of death 20th June 1915. Ox and Bucks 5th battalion were part of the 42nd brigade 14th div.Aged 22. Thomas was killed in action in the actions of Hooge. In a period of consolidation during early 1915, trenches being fortified and improved, losses during this time were about 300 men a day along the front from snipping and shellfire, gas was also a major killer, causing 5,000 deaths in the spring of 1915. Chlorine being the main cause of death. Thomas was born in Bidford enlisted in B'ham. Farm Labourer in 1911. Son of Joseph and Jane Taylor of Barton nr Bidford. and brother to Walter listed below.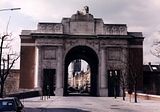 Menin gate memorial.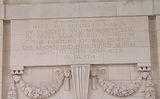 Menin gate plaque

+++



TAYLOR....
Walter, William.
Lance corporal. Service no 17178. Hampshire regiment 1st battaliion. Formerly 12776 Ox and Bucks light infantry.Aged 30. Awarded 1914-15 Star BWM and Victory medal.
Hampshire regiment was part of the 11th brigade 4th Division. Walter was killed in action, 2 battles which his regiment were probably involved in were the 3rd battle of the scarpe and the capture of Roeux both in early May 1917. Born in Littleton Pastures Worcester. Resident of Bidford. Son of Joseph and Jane Taylor of Barton, Nr Bidford. And brother of Thomas listed above. His effects to Miss Mabel Dee. Buried Point-du-jour Athies.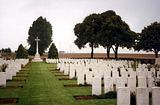 Point-du-jour military cemetery.cwgc.

+++


WHEATLEY....
Henry John.
Private. 3rd battalion Worcs Reg. 7th brigade 3rd div. Discharged 28th Sept 1914. Died of ill health at home in Feb 1915. aged 30 The Husband of Mannie Wheatley. Children John, Eva, and Dorothy. He was Born in Broadheath Worcs. Before the war he was employed by the post office, and he returned to this employment after discharge being unfit for military duty. He also served during the a African war. Buried at Bidford.



Bidford Church

+++


WILKES....
Christopher.Samuel.J.
Air Mechanic 2nd class. Royal Air Force. Attached to G.H.Q.,B.E.F. who died aged 19. on the 24th August 1918. Cause of death drowning. Aceid France. Before the war he was employed as a chauffeur to the Bishop of Worcester Son of Christopher Ernest and Louisa Harriett Wilkes. Brook house, Abbotts Salford,nr Evesham,Worcs. He is also Commemorated on the Salford priors war memorial.



Etaples military cemetery.cwgc.

+++


WOODHOUSE....
William.
Gunner 66th Siege battery RGA. Killed in action on 4th Oct 1917 aged 22. Joined Fort Rowner Gosport 26/11/14. Posted 18/3/16. The son of William and Mrs Woodhouse Tower hill. Bidford. Husband of Rose Ellen, married 10th Feb 1915 at Bidford, Father of Jessie. Rose Ellen was awarded a pension of 18 shillings and 6 pence. Before the war William worked for Cadbury's in Bournville. Buried in the White House Cemetery, Iper West-vallanderen.Belgium.



White House cemetery Belguim.

+++


WRIGHT....
Frederick Henry.
Private 23038.4th Battalion Worcs Reg 88th Brigade, 29th Div Killed in action at Krithia Vinyard Aug 6th 1915.Fredericks Brigade the 88th alongside two brigades of the 42nd division attacked the Turkish trenches on the morning of the 6th Aug capturing some, the Turks then counter-attacked, recaptured the lost trenches The British attacked again, and again captured trenches, another counter attack by the Turks drove them out.
Unfortunately the British did not hold any ground and the 88th Brigade suffered may losses on this day and its fighting ability reduced greatly. British casualties were in excess of 4000.
Son of Frederick a bricklayer and Alice Wright of New cottages, Barton.Commemorated on the Helles Memorial Turkey.



Helles memorial cwgc

+++


WRIGHT....
George Benjamin.
Private. 16355 Ox and Bucks regiment Light Infantry.7th - France and Flanders 21 Sept 15. Salonika 24 Nov 17. Bulgaria 30 Sept 18 to 20 Apr 19. Died of Pneumonia on 7th Dec 1918. aged 21. George served in France and Flander for a number of years ironically surcoming to a virus in Bulgaria after the war was over. Son of Benjamin and Alice Wright of Rushford, Salford Prior. He was born in Horsepools Stroud. Buried in the Sofia war cemetery Bulgaria. His brother Frederick also fell(details above).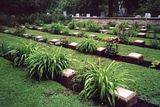 Sofia memorial Bulgaria.cwgc

+++


Also remembered in Bidford is 2nd Lieutenant Edward
ROUND...
He has a bench dedicated to him a tribute by his wife Gerturde Lucy, situated on Marriage Hill on the outskirts of Bidford. 4th Bn Worcs Reg. died on 21 April 1917. Killed in the battle of Arras age 36. His family lived in Dudley. Buried Feuchy Chapel British Cemetery, Wancourt.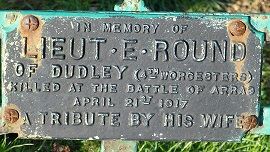 The men would have received all or some of these medals. nicknamed pip, squeak, and wilfred, after famous newspaper cartoon characters of the time.
The 1914-1915 Star (pip),The British war medal (squeak), The Victory medal(Wilfred).


They went with songs to the battle, they were young,
Straight of limb, true of eye, steady and aglow.
They were staunch to the end against odds uncounted;
They fell with their faces to the foe.




Laurence Binyon (1869-1943).
(served with the red cross 1916)

Also on the memorial plagues for the 1939-1945 world war.






Remembering..




1940..
Private Roland William HAMMOND.5252903 8th Batt Worcs Reg.
Died 29/05/40. Aged 20. West Cappel churchyard. Family lived in Marcliffe.

Aircraftman A/C1 Frank HANDS.
Died 14/05/40.was on a low level photo recon in Blenheim Mk4 on 13 May 1940...the 4th day after the German invasion of Europe. They failed to return and were reported as missing on 14/5/1940 and subsequently KIA. Pilot was Croydon Jelfs Edinburgh CHAMBERLAIN. Research is being carried out by a cousin of Croydon.(Please contact me via email or guestbook if you have any further info on Frank)
Frank is on the Runnymede memorial.

Sergeant Pilot Robert HOLDER. RNZAF. Died 26/10/40. Aged 23. Bidford-on-avon cemetery.

1942..
Sergeant James Harry BRYAN.
Died 30/10/43. Aged 20. El Alamein War Cemetery.

Leading aircraftman James Henry TABNER.
Died 29/3/42. Aged 32. Buried Bidford cemetery.

Private William Edward SHERWOOD. Died 30/2/42. Aged 26. Singapore memorial.

Able seaman. Leonard MANSELL. Died 18/11/42. Aged 22. HMS Arethusa. Chatham naval memorial.

1943..
Flight Lieutenant Thomas Fraser McCRORIE.
Died 23/06/43. Aged 27. Hemelumer Oldeferd (Molkwerum) Protestant Churchyard.

Private Lewis Willoughby NASH. Intelligence Corps. Died 30/9/43. aged 29. Chungkai War Cemetery.

Sergeant Ivor Meredith THOMAS. Died 06/03/43. Aged 27. Salerno war cemetery.

1944..
Petty officer James Herbert ASHTON.
Died 10/8/44. Aged 20. HMS Trumpeter. Lee on solent memorial.




This site is dedicated to my deceased mother (Muriel) d.2006, mother-in-law (Eileen) d.2006 and father-in-law (Roy) d.2007. All three taken from us too soon. RIP.



CREDITS:-

Thumbnail photo's of the fallen courtesy Berrows Worcester journal and Evesham Journal (gratis supplement published 1914-1918) newspaper. Copies held at Worcester family history centre/library 'The Hive'.

Some of the Warwickshire regimental history provided by:-The Story of the Royal Warwickshire Regiment (Formerly the Sixth Foot)
by Charles Lethbridge Kingsford 1674 to 1920.

And all like minded researchers of WW1 fallen.

Bidford history society have a book published entitled Yesterday's children, which has a chapter on Bidford in the world wars. ISBN 978-0-9575790-0-2.


LINKS:-

Western Front Association of which I am a member.
click here.

WW1 cemeteries.com
click here.

Some of the cemetery pictures used with kind permission of the CWGC (Commonwealth war graves commission).
click here.

Canadian Archives website.
click here.

The Long, Long Trail and its associated Great War Forum.
clickhere.

Graven's part in the great war.
clickhere.

An excellent website to the fallen whose names are commemorated primarily on war memorials and rolls of honour in Worcestershire, England with a small number from Warwickshire, Gloucestershire and Shropshire can be found by clicking the link below.
click here.





Please visit my other website which is a dedication to my Uncle
who Died Of Wounds in August 1918.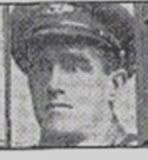 John Ashley Stinton.

click here.


Fallen Bidford-on-Avon WW1

Copyright © Fallen Bidford-on-Avon WW1 2015